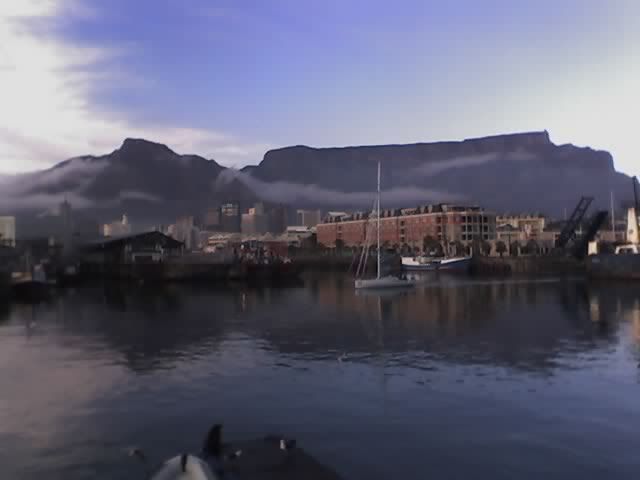 Those who know me appreciate that my job often requires long hours, endless business travel and plenty of stress. However, every so often, it comes up trumps with a wonderful experience. Last weekend was one of those moments.
For more than 25 years I've harboured a dream. I've always wanted to visit Capetown in South Africa. Last weekend I finally had an opportunity to visit. Yes - the real thing - in South Africa.

I found myself flying to Johannesburg to visit our South African operation last week. After my first day on the ground it was clear I'd have to stay longer than the three days I'd originally planned. As a result, I found myself with a weekend to spare.

The thought of a weekend at the Hilton in Joburg didn't grab my imagination. Joburg isn't the prettiest city. It has an urban landscape that doesn't make one feel particularly welcome. At a macro scale its vast and sprawling. At a more intimate level every property is ringed by impossibly high concrete walls, topped by live electric wires, razor wire or broken glass shards. The overwhelming effect is one of a giant, soul-destroying maze without colour or novelty.

I'd also seen the sights that were of immediate interest back in 1996. At the time toured key locations in Johannesburg and Pretoria while enroute to my brother's wedding. On a whim, I googled "low cost airlines south Africa" and discovered Kulula.com. My weekend was rescued.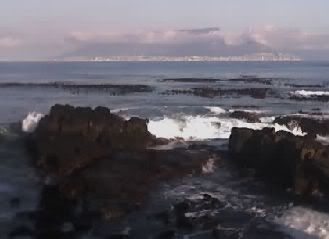 Hooray for the internet
Within half an hour I'd secured a return ticket to Capetown, departing Friday evening and returning Sunday night for less than £125. Expedia.com also gave me a heavily discounted weekend package at the Commodore Hotel. I'd heard many good reports about this boutique hotel and was keen to experience it for myself.

Despite the cheap rate I was delighted by the room I was given on arrival in Capetown. I woke on Saturday morning to be greeted by a stunning vista of Table Mountain outside my window. This was a very pleasant surprise. One of many that happened during my stay.

The bar staff in the lobby lounge were brilliant. I felt as if I were catching up with old friends. This is a real talent that a great many hospitality staff can't quite pull off. The lobby was filled with large, overstuffed chairs and sofas, centred around an open fire. Another unexpected delight. I spent two wonderful evening in front of the fire with a fine glass of South Africa white close to hand.

I was further delighted the next morning when I discovered that the kitchen could prepare an all egg-white omelette. I can't tell you how many five star hotels in Europe and Asia are unable to cope with such a request. ln short, I love the Commodore!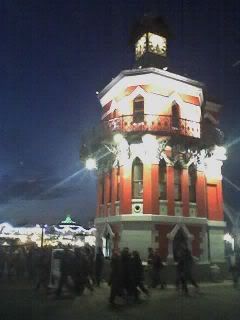 Harbour-side heaven
I spend Saturday enjoying a much needed lazy morning, quietly napping until noon. From the hotel I made my way to the V&A waterfront, Capetown's version of Darling Harbour, albeit on a much more intimate and inviting scale. After a leisurely wander around the harbour, I discovered a bustling gourmet cafe called Balducci's.

I sat myself at an outdoor table for lunch and soaked up the Table Mountain backdrop. Over a smoked chicken and avocado salad, I decide to hire a car and drive to the Cape of Good Hope.

The drive took me past fishing villages and winding coastal roads before finally ending in the national park that covers the last kilometers of the Cape Peninsular. After waiting for a large family of baboons to pass, I soon found myself at the end of the road with nothing but the Southern Ocean ahead. It was at this point that a light misty rain began to fall.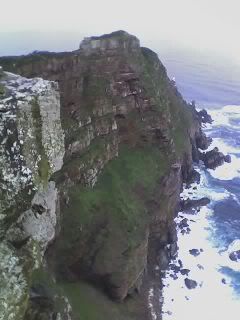 The Cape of Good Hope
Ironically, the weather was ideal. With rain in your face, one easily could imagine ships being wreaked on the rugged coastline below, and picture survivors struggling to reach the foreboding cliffs below me. I spend a memorable hour wandering the Cape Point cliff top and exploring the original lighthouse.

I then drove along the bay to the Cape of Good Hope. A short walk saw me standing on a desolate rock platform while waves crashed beneath me. I truly was at the end of the world. As I made my way out of the park, nature gave me one more moment to treasure. Three ostriches came in the view on the roadside, quietly grazing sandhills along the shore.

As I made my way back to Capetown the rain really began to fall. I quickly abandoned plans to discover the city by night, choosing instead to cozy up in front of the Commodore's open fireplace.

Table Mountain
Sunday dawned clear and sunny. I took advantage of the good weather and caught the cable car up to the top of Table Mountain. The views were extraordinary. A gathering sweep of cloud soon gave the landscape an increasingly mystical touch. I walked for more than an hour along the plateau before making my way back down to my waiting rental car.

From here, I drove along the opposing coast of the Cape Peninsular, including the stunning Chapman's Peak road that's literally carved into a solid cliff face. I eventually made my way back to Capetown in time for a late lunch of grilled prawns, sitting on the water's edge at V&A Waterfront.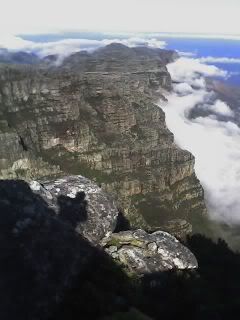 Robbin Island
At 3:00pm I caught the last boat out to Robbin Island. This island lies 13 kilometres offshore. It was here that Nelson Mandela was incarcerated for 18 years as a political prisoner. We were taken on an entertaining tour of the island's main sights including a man-made limestone quarry where ANC inmates once performed hard labour.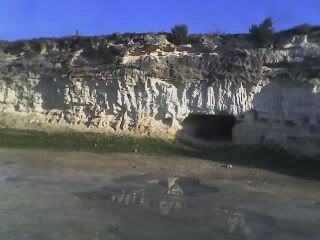 While at the quarry our guide pointed to a 7-metre deep cave in the quarry face. He explained that this was all that remained of a 20-metre cave which had once existed in the area. Over a 40-year period, prisoners has dug an enormous basin by hand, progressively removing the ground around the cave itself.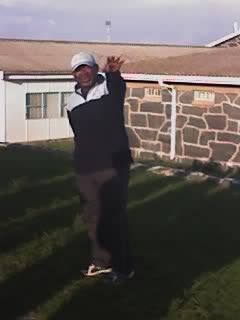 Our time on the island ended with a walking tour of the maximum security prison that housed Mandela and his fellow inmates. The tour was conducted by a former political prisoner who brought to life the time he's experienced inside. Through him, history came alive as he described the football games and political debates held each evening before lights out.

We saw the small, two-metre by two-metre cell that Mandela lived in for 18 years, as well as the communal dormitories where men lived for more than a decade with nothing more than sleeping mats and iron bars on the window. Bunk beds and glass window panes were luxuries that came much later. I came away angered that such injustice could have happened in my lifetime, yet also moved by the forgiveness and grace that our guide displayed towards his captors.

It was dark by the time our boat reached Capetown, and time for me to head back to the airport. I arrived early. Kulula.com offered to put me on an earlier flight back to Joburg. By 11:00pm was back at the Hilton, rested and ready for a new week. My childhood dream had finally come to pass.