Portuguese sailors discovered an eastern route to India via the Cape of Good Hope during a period that became known as the Age of Discoveries (1415-1499). Portugal, then a nation of less than two million people, eventually held sway over a staggering collection of colonies in Brazil, Africa, India and Southeast Asia.

Enduring symbols of the wealth that subsequently flooded the nation are visible today, as is the eventual decay that followed. This juxtaposition is my most poignant memory of Lisbon, having just returned from five days work. This was my first trip to Portugal. I think I'm up to 47 countries now, excluding those nations I've only visited for minutes.

Most of the time we were holed up in our hotel, but did get to explore the city on a few occasions. The first was a walking tour of the city one evening. We explored some of Lisbon's oldest areas. Much of what we saw was built after devastating earthquakes in 1531 and 1755.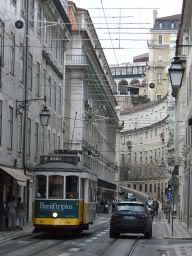 The heart of the city is the Baxia or city centre. The Baixa is organised in a grid system and a network of squares built after 1755. The Castle of Sao Jorge and the Lisbon Cathedral are located on one of surrounding hills. Both venues were flood lit making for a stunning city back drop.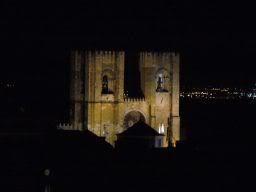 Perhaps the most interesting sight is Elevador de Santa Justa, is a lift that connects downtown streets with Carmo Square, located uphill. It's nicknamed the Eiffel tower as its iron construction is reminiscent of the Parisian tower. Many people wrongly think that it was built by Gustave Eiffel. It's designer does pay tribute to the influence of Gustave having been born of French parents.
The tower is 45 meters high and has two elevator booths, with wooden interiors. The highest level is reached by spiralling cast iron staircases. These lead to a terrace with a wonderful view of Lisbon. Our group stopped to sample a local beer, effectively taking over this scenic spot for half an hour. We also stopped to sample the famous "moscatel" wine from nearby Setúbal. It's similar to a sweet sherry.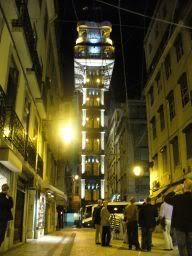 After our walking tour we stopped for dinner at a local Fado restaurant. Fado (translated as destiny or fate) is a music tradition that dates back to the early 1800s. As the translation suggests, Fado is ideal mood music for slashing your wrists. It conveys a complex mixture of nostalgia, tinged with sadness, pain, happiness and tragic love. Our restaurant kindly switched to dim red lighting as each singer ventured on to the stage, making us quietly chuckle every time.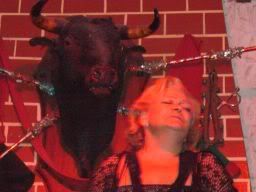 Our final night in Lisbon was also spent in town, dining outdoors at a small cafe. We sat on a cobblestone street with views down a narrow lane and across the city towards its floodlit castle. All in all a most memorable meal.
I finally got to spend several hours wandering the city in daylight on Sunday afternoon before heading off to the airport. I wandered down to the harbour's edge where the Praça do Comércio is located. This magnificent plaza marks the beginning of Lisboa's downtown, framing the city with a grand arch.

From here I walked the cobbled streets, dodging old, classic trams eventually reaching the city's twin towered cathedral. I then climbed the hill to the Castle of Sao Jorge. The view was stunning. Lisbon is a sea of red tiled roofs and white-walled buildings.
I then wandered back to the metro station via the steep lanes and stairways of the old neighborhood of Alfama. Here the building are decorated by fading, chipped ceramic tiles in a variety of colours and designs. Without a doubt, Lisbon has plenty of character!
Sintra
.