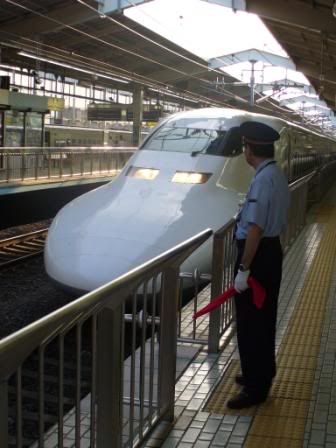 Buying a round-the-world air ticket inevitably compels you to maximise the benefits on offer. In our case, we couldn't simply rush straight back to Australia without first stopping off somewhere new in Asia. The traditional routes weren't of much interest as both of us have spent time in Singapore, Hong Kong, Bangkok and Shanghai. After some debate we settled on a high-speed tour of Japan, largely retracing a route I'd taken eight years ago.
A breakneck tour of Honshu is only possible thanks to the incredibly efficient rail system, particularly the famous bullet train, known locally as the Shinkansen. High speed trains enable you to literally cover 1000 kilometres a day in total comfort, while still stopping for leisurely sightseeing excursions along the way.
Our first day in Japan started mid-afternoon on Tuesday when our flight from Hong Kong finally touched down in Osaka. Flying into Osaka is an incredible experience. Kansai International airport is built on an artificial island in Osaka Bay, about 50 kilometres south of Osaka itself. It's one of the first airports in the world to be built on an island in the sea, establishing a precedent that Hong Kong, Macau and others were to follow years later.
Our flight path took us in a huge circle around the edge of Osaka Bay, past Akashi Kaikyō Bridge (at 3910 metres it's the world's longest suspension bridge), Kobe and Osaka before skimming across the surface of the bay to a low-set island. At the airport we activated in our Japan Rail Passes, before catching a train to Osaka and then transferring to the Shinkansen for Hiroshima. The 400 kilometre journey took barely two hours to complete.
The Japan Rail Pass is one of very few bargains available to tourists in Japan. You buy a voucher before arriving in the country and convert it to a simple pass on arrival. A 500 kilometre trip on the Shinkansen costs as much as the pass itself, so you can see how it quickly pays for itself. In 3.5 days we travelled more than 1500 kilometres by rail.
Read on for more about our time in
Hiroshima
.
UPDATE - September 2009
Click here
for a post on my day trip to Matsushima, a spectacular Japanese tourist destination in Northern Honshu.