My last post covered our first day in Amsterdam. Let me tell you about our second day. First, the weather (of course, we are in England now and you should always open conversation with a meteorological comment). Our first day was a warm, sunny day, while the second day was marred by very heavy rain late-afternoon.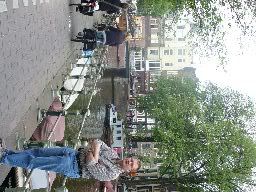 We started the day with a leisurely morning. After our 4:00am start on Saturday, a sleep in was always on the cards. We eventually wandered out of our hotel, making our way to La Place for lunch. This was a fantastic venue we'd spotted the previous day. It's effectively a fresh food, indoor market restaurant where you select your preferred menu items, have them cooked in front of you and then fight with hundreds of others for a table in the upstairs food-hall style seating space.
The available menu was astonishing. There was everything from roast pork to stirfried scallops, seared tuna steaks to fresh fruit platters, crusty bread sandwiches to exotic salads. I eventually settled on a chicken quiche and a selection of char-grilled roast vegetables. Garry went for the roast Chicken.
From here we wandered back across the city to the Van Gogh Museum, stopping briefly to watch diamonds being polished at Coster Diamond. Coster's is also famous for successfully polishing the world's smallest diamond, barely half a millimetre wide. I was fasincated by a raw dimond rock on display. It looked like a large chunck of lead or coal with the occassional sparking edge. I would have walked right past it if it had been lying on the ground in Africa. It was about now that the heavens opened up, making it an ideal time to linger indoors.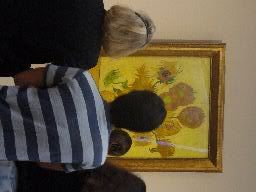 The Van Gogh Museum contains more than 200 paintings that span the artist's professional career. Perhaps career is a little generous. Van Gogh, a Dutchman by birth, only sold one painting while he was still alive. The museum's collection includes several famous masterpieces including Sunflowers, Irises and Wheatfield with Crows. I also recognised several self-portraits.
Access to such a large collection gives you a rare glimpse of how an artist's signature style develops over time. Van Gogh's early paintings were dark and somber, a stark contrast to his later, more colourful, short brush stroke technique. Another memorable highlight was the most exquisite marble sculpture of a peasant woman nursing a baby. This wasn't a Van Gogh art piece, but it did capture the essence of rural scenes that dominated his early work.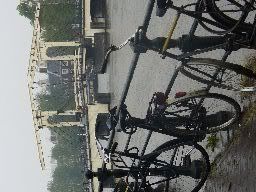 We later took advantage of a brief break in the rain to walk across the city to the Amstel river. I was particularly keen to see Magere Brug, a traditional double-leaf Dutch drawbridge. The current bridge is a 20th Century replica of a wooden bridge built in the 17th Century. It's considered one of Amsterdam's more famous landmarks. Unfortunately, we'll remember it more for the torrential rain that started to fall as we neared the entry ramp.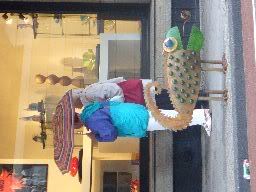 With such heavy rain falling it was time to head back to our hotel and catch the World Cup knock-out round game between Holland and Portugal. Holland eventually lost 1-0. The following day Australia also bowed out of the competition, losing a 1-0 to Italy thanks to a penalty in the game's final minute.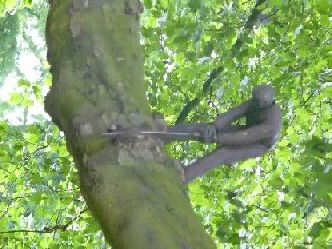 One of the more novel sculptures we spotted.