I really needed to escape. After four days inside a Lisbon hotel I needed some open space and fresh, unfiltered air. By chance, I found the perfect antedote to conference room hell - the town of Sintra. 40 minutes by train from downtown, it's home to some of the most memorable Portuguese Romantic architecture you'll never see. I'm inclined to call it
Disneyland Among the Cork Trees
.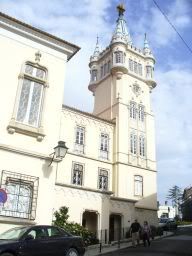 After discovering images of Sintra on the net, I arrived shortly before lunch with high expectations. I wasn't disappointed, eventually spending four wonderful hours exploring the town's ruined Moorish Castle, its cork forests and the meandering side-streets filled with quirky buildings.
The town has an endless array of unusual, sometimes colourful, buildings built in the 1880s. Many sit atop hills, commanding stunning views of the Atlantic coast and the hills surrounding the fringes of a distant Lisbon.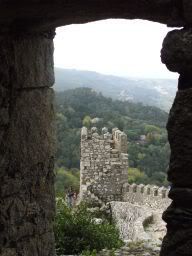 My first stop was Palácio Nacional de Pena, a drawbridged palace that's simply is a glorious conglomeration of turrets and domes awash in red and yellow pastels. The final kings of Portugal lived in the Pena Palace, the last of whom -- Dom Manuel II -- went into exile in England in 1910 after a republican revolt. The pseudo-medieval structure, with its ramparts, towers, and great halls, has a rich, sometimes vulgar, and often bizarre collection of Victorian and Edwardian furniture, ornaments, and paintings.
To reach this hilltop castle I caught a sardine-packed local bus that wound its way through narrow, walled lined laneways before filling reaching the palace entrance. I had hoped to explore the building and its grounds, but the lengthy queue at its gate detered me. With so little time to spend in Sintra, I wanted to remember anything other than a queue.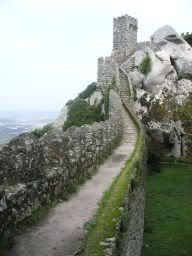 It's visible from various points in Sintra itself. Panoramic views from the castle's serrated walls help explain why Moorish architects chose the site. The battelments also afforded postcard views back towards Pena Palace. After an hour of clambering over stone ruins I wandered back down the hillside to the town itself. This walk, off the beaten track, was truly magic.
Easily mistaken for a glaringly misplaced energy plant of some sort, the conical twin white chimneys of the Palácio Nacional de Sintra (Sintra Palace) are the town's most recognizable landmarks. Under those chimneys, meat turned on spits for the feasts of João I.
There has probably been a palace here since Moorish times, although the current structure, also known as the Paço Real, dates from the late 14th century. The property was the summer residence of the House of Avis, Portugal's royal line, and it displays a fetching combination of Moorish, Gothic, and Manueline architectural styles.
Perhaps the most unexpected highlight was a small fountain, surrounded by bright blue walls. The Sabuga Fountain, where the water spouts from two breasts, is still used by the local to collect water each day in large plastic jugs and bottles. Rumour is that the water has medicinal properties. I tried some but can't claim any miracle cure.