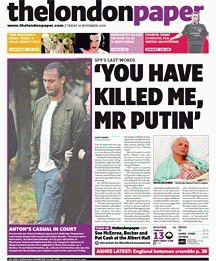 On September 7, 1978 the Bulgarian Secret Service poisoned Bulgarian dissident writer Georgi Markov. He was poisoned in London, at the end of Waterloo Bridge, using the popular rat poison, Ricin. A tainted pellet was injected into his leg using an umbrella tip built with a hidden pneumatic device. The umbrella had been developed in conjunction with the KGB. Markov died four days later.

This week the news is filled with another dissident poisoning in London. In a surreal flashback to the Cold War, Alexander Litvinenko, a former KGB and Federal Security Bureau (FSB) officer died on Thursday after being poisoned. The FSB superceded the KGB as Russia's primary intelligence organisation in 1995.

Litvinenko fled Russia in 2000 after speaking out against the alleged FSB-orchestrated murder of Boris Berezovsky, a billionaire businessman. Since arriving in London, Litvinenko had become an increasingly vocal critic of Russian President, Vladimir Putin. Most recently he'd spoken out about the murder of Russian journalist, Anna Politkovskaya in her Moscow apartment.

Litvinenko was poisoned by Polonium 210, a radioactive poison used to trigger nuclear weapons. It's not exactly the sort of stuff you have lying around your house. Officials suspect that the Polonium was administered during a Sushi lunch in central London. The papers claim that, over lunch, Litvinenko was given documents confirming Politkovskaya's killers.

It's hard to imagine that such cloak and dagger events are still occuring in Europe. It's even harder to comprehend that they're happening in the very city I live in. I can't describe the sensation of living in a city where world news is being constantly created. It's both exciting and frightening.

The other night Garry and I were watching old WWII footage of the London Blitz. Again, it was surreal to realise that these images were taken in the same streets we now wander through in daily life. Without realising it, you some how feel more vulnerable living in London. I never expected to feel this way. Life in Australia felt an awful lot safer.