I flew into New York on Sunday in preparation for an intense week of business meetings. On the spur of the moment I took advantage of a warm and sunny afternoon, visiting the Observation Deck that recently reopened on the 70th floor of the Rockefeller Center. The original deck closed soon after the World Trade Centre was completed in 1973. At 70 floors, the venue couldn't compete for tourist viewing dollars with the Empire State Building (86 floors above the street) and the WTC (at 110 floors).

Much like the WTC before September 11, the Rockefeller Centre observation deck sits on the roof of the building. The result is a stunning, unobstructed, panoramic view of New York City. With blue sky overhead and the wind in your ears, this is as close to flying one can get without wings.

The deck gives you a stunning view of the Empire State Building, the autumn colours of Central Park and the mid-town street canyons spreading in all directions. It all brought back memories of my first trip to New York in November 1983 as an exchange student. I recall going up the Empire State Building and being truly mesmerised by the view. At the time it was quite a contrast to vistas of my home town in New Zealand. Somehow 5000 people just don't have the same visual impact.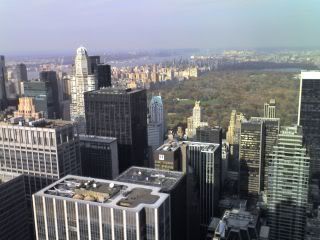 Read on for more about our adventures in New York.